Ozarks Knockerball® is the premier Bubble Soccer provider in Missouri. Located in Mt. Vernon, Ozarks Knockerball® is ready to help you plan the best party or event ever. Specializing in: Missouri Birthday Parties, Fundraisers, Corporate Events, Bachelor and Bachelorette Parties, Church Outings, Youth Groups, Camps, Bubble Soccer Leagues and Bubble Ball. Check us out on Facebook or on the Web to see some of the epic pictures and videos we've created. Battle in the ball for hours and hours of great fun. No Matter what event you are looking to have, we can make it happen.
Are you looking for a unique event for your next corporate team building? We have planned events for the smallest of teams all the way up to hundreds of members. Our event coordinators can guide the teams through a series of games that will have the guests working together and laughing all throughout the day. Ever wanted to knock the boss? We can make sure you have that opportunity as well! Games for all ages and skill levels are our specialty. Safety is key and each event will have at least one event coordinator to make sure everyone has a blast!
When you book with us you're not just getting the "stuff". We send staff to set it all up, run all our incredible Knockerball games (from bubble soccer to capture the flag, human bowling, tag, and more- the possibilities are endless… and endlessly fun!), engage all the participants, ensure maximum safety, and then take it all done. Rent with us and get the full package, start to finish! Check out all that Ozarks Knockerball® offers! From Knockerballs to human foosball, outdoor movie theatres, and archery tag- we have a package for every shape and size event.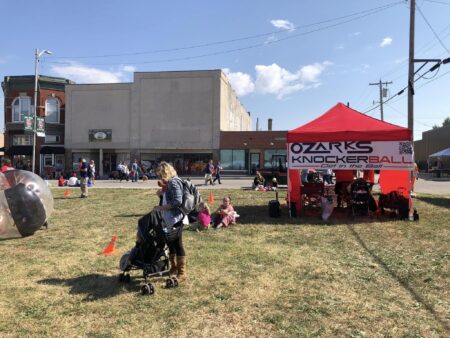 Ozarks Knockerball®
Nathan & Emily Fish
Mt. Vernon, MO
65712
USA