Frequently Asked Questions and Safety
What is KNOCKERBALL®?
Knockerball® is a single-chamber inflatable plastic bubble with inner handles and adjustable shoulder straps. Players get in the "donut-hole" part of the ball head-first, secure the straps (like a backpack) and hold on to the inside handles for stability and control. Once inside, the Knockerball® acts as a protective barrier with the player's head and entire upper-body safely surrounded by the bubble. What makes a knockerball truly special, however, is that unlike a human hamster ball, the player's legs are free. This allows them to run, bump, and play classic games like soccer, capture the flag, and musical chairs with a whole new perspective, and that's when the fun begins!
Can I start my own Knockerball business?
Yes! Knockerball® USA has assisted hundreds of new start-up businesses throughout the country. The company has developed an extensive support system for you including web development, safety training, coaching calls, and an active and vibrant KB Nation forum of fellow business owners that will assist and guide you through the process. Upon becoming an affiliate in your area, you will be privy to proper insurance contacts, liability waivers, and promotional materials created by us and other KB partners. Some other benefits of becoming a Knockerball® affiliate include: discounts on KB merchandise, referral fees paid to you for new affiliates, and unyielding loyalty to you and your success from all of us, just to name a few. When joining Knockerball®, you become part of a special family of entrepreneurs; and with corporate support, on-going product improvements, national advertising, and continued developments regarding marketing initiatives, you will quickly develop a thriving business. Call us today at 800-583-7250 or email us at [email protected].
How do you play with Knockerballs?
Knockerballs are a new addition to recreational sports and help people laugh and connect with a fresh spin on classic games. Young or old, big or small, Knockerballs put a fresh spin on games like soccer, capture the flag, musical chairs and sharks and minnows. In fact, you don't even need a game to have fun with Knockerballs! Many just enjoy rolling around, bumping, and laughing with their friends.
Who can use Knockerballs?
Young kids all the way up to grandparents find themselves laughing and giggling inside a KnockerBall. Great for sports teams, youth groups, schools, corporate events and team building, private parties and birthdays.
Is there special pricing for bulk or large orders purchases?
Yes, we do offer special pricing and discounts for bulk orders. Please contact us at info@knockerball for a quote.
Do you have military discounts?
We sure do. Our KnockerBalls are enjoyed on many bases for a fresh spin on recreational games.
Do you offer discounts for students or other groups?
We love to support educational institutions and other special interest groups as well as the armed forces.
What equipment is required to play Knockerball or bubble soccer?
Not much! Just make sure you have a high powered pump to inflate the Knockerballs.  We also recommend carrying bags to store, transport, and protect the Knockerballs, a few goals, a ball, some cleaning wipes, and a few friends.
Where can I book an event with Knockerballs?
With licensed and insured locations across the US as well as some international locations, KnockerBall has a large network of trained operators. Click HERE for our map of locations. Can't find a location near you? Inquire about bringing KnockerBall to your community!
How much does it cost to rent Knockerballs?
Many factors go into pricing a KnockerBall event, including the duration of the event, the number of knockerballs and players, location as well as other games that are being offered.  Your local affiliate will be able to provide you with costs, packages and what is included. Click HERE for our map of locations.
What are Knockerballs made of?
Knockerballs have evolved since our founding in 2014. We've found the the best customer experience and durability come from using the highest quality TPU (Thermoplastic polyurethane) on the market.  These are premium balls that will hold up to many years of frequent use. TPU Knockerballs are great for camps, military bases, youth groups, schools, parks districts and event rental businesses.
TPU is more durable and thus last longer.
TPU is more flexible leading to better shock absorption, and a bouncier feel.
TPU has a wider temperature range leading it to feel softer in lower temperatures.
TPU material is more environmentally friendly and can be recycled.
TPU is odorless, providing a better experience for those in the ball.
TPU is lighter weight (given same size and thickness) allowing more fun to be had before tiring.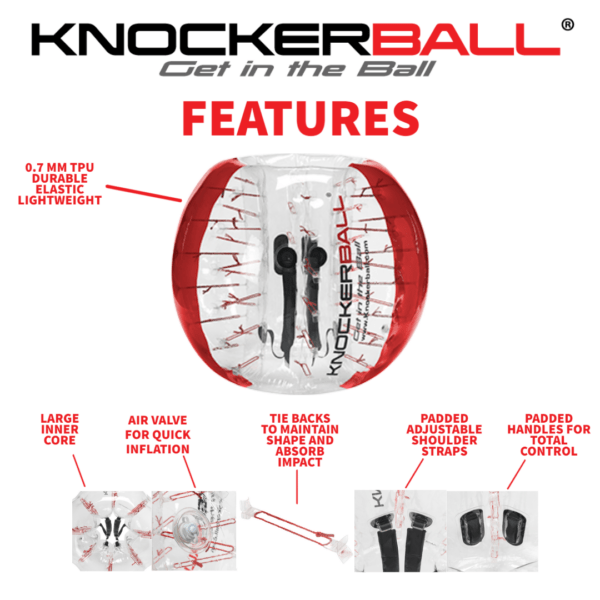 What colors are Knockerballs available in?
Knockerball® is the premier bubble soccer provider, and in order to make sure we distinguish ourselves from knock-off bubble balls, we have developed our equipment in our three brand colors (Red, Black, Clear) with our trademarked logo. The colored panels are on the backside of the ball to help players distinguish teams or sizes while not obscuring the field of vision during play. We offer customized logo printing for your organization as well.
What sizes do the Knockerballs come in?
Knockerballs come in 2 main sizes Large and Medium:
Large – Our most popular size by far. For most Adults and High Schoolers. This will be best for anyone over 5 feet and over 12 years old. Before getting started make sure the players straps are adjusted properly and there is a minimum of 6 inches of room above their head to the top of the ball.
Medium – This is best for ages 6-12 and under 5 feet of height. Kids vary in weight and height so it is best to ask the trained provider for their recommendation.
XL – This is only for the larger players that are well over 6 feet and over 225 lbs. It is important before playing to go over the safety rules and watch the training videos on the Do's and Don'ts of how to play Knockerball. It is also important that players on the field are the same size and athletic ability. We do not recommend younger children and adults/teens playing at the same time. Remember, safe is fun! 
Small – Custom quotes only for these little guys. This lightweight tiny ball is best for ages 2-6. For rolling around and light bumps – playing games and laughing!
How much does the KnockerBall® weigh when inflated?
Large TPU – 15 lbs

Medium TPU – 12 lbs
How do I inflate and use Knockerball?
Inflating takes just 1 min and is very easy to do; simply unscrew the cap on the valve and secure the hose to the opening of the ball. We offer a high powered pump that works great, and if you have access to one, a shop-vac is also a quick and easy solution. Deflating is just as easy, simply put the pump or vac on reverse to remove all of the air and replace the cap. Once the Knockerball is inflated, make sure to adjust the straps for proper fit before having fun.
How do I repair bubbleballs?
Should you have a puncture, there are a some great products on the market today. Don't be fooled by companies overcharging for repackaged 'repair kits.' You can find all you need on Amazon or your local hardware store. There are some peel and stick patches known as Tear Aid Type B – which works the best that we've found.
How do I clean a Knockerball?
Our affiliates clean and sanitize the balls after each use. To ensure the shelf life and durability, we recommend cleaning the Knockerballs after each use to prevent dirt build-up over time. It is easiest to clean the Knockerballs while still inflated. For onsite cleaning during games, we recommend a product that is gentle on plastic, like Simple Green or Clorox wipes. For heavier after event cleaning, a diluted mixture of Simple Green and a hose/power washer is a popular solution for deep cleaning.
Where should I store my KNOCKERBALL® when not in use?
Over time, rubber and plastic products can undergo changes in physical properties and become unusable due to excessive hardening, softening, cracking, or other surface degradation. These changes may be the result of one particular factor or a combination of factors, such as the action of oxygen, ozone, light, heat, humidity, oils, water, or other solvents. The detrimental effects of these factors can, however, be minimized by proper storage conditions. Here are some guidelines that will help give your product shelf life longevity.
TEMPERATURE The optimum temperature for storage is between 40°F and 80°F. High temperatures do accelerate deterioration, so sources of heat in storage rooms should be arranged such that the temperature of stored items never exceeds 120°F. The effects of low temperatures are not as damaging or permanent as high temperatures, but rubber and plastic articles will become stiffer and care should be taken to avoid storing them at temperatures below 40°F for extended periods of time.
HUMIDITY The relative humidity in the storage area should be below 75%. Very moist or very dry conditions should be avoided. Where ventilation is necessary, it should be kept to a minimum. Condensation should not be allowed to occur.
LIGHT Products should be protected from light, especially sunlight and strong artificial light for extended periods of time.
DEFORMATION

Products should be stored in a relaxed state, free from tension, compression, or other deformation since these may lead to cracking or change of shape.
Can I customize my Knockerballs?
Yes, we do offer customization of logos for special projects. Customization may increase the production time, for more questions please contact [email protected] or call 800-583-7250.  
Is there any warranty on the Knockerballs?
Yes, we do offer a limited warranty on all manufacturer defects for 1 FULL YEAR. The warranty does not cover standard wear and tear from normal usage.
Important rules to follow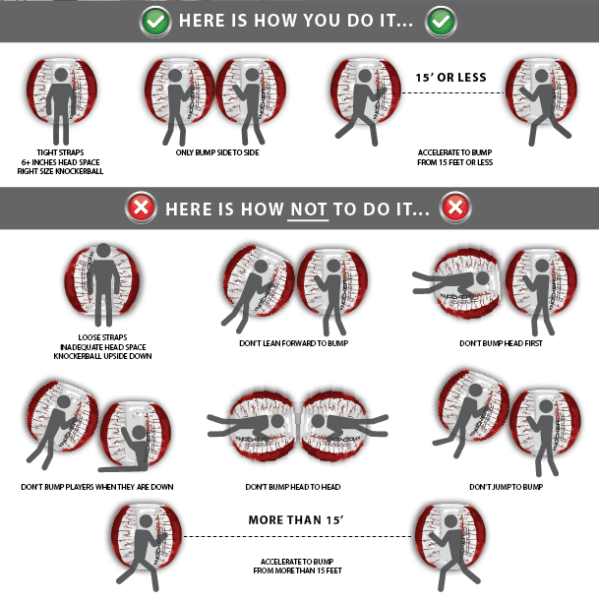 Have fun without Injury – Bumping should be a result of play, not the goal of play. Download the safety diagram here.
Do not run full speed into players.
Do not bump players while they are on the ground.
Bumping into one another is a result of play, not the goal of play.
Do not hit players from behind.
Do not lower your head when making contact.
Do not leave your feet when playing.
All participants under 18 must have adult supervision.
Not for use by persons who have a waistline of 40 inches or greater.
Not for use with more than one person in the KnockerBall® at the same time.
Not for use by persons under the influence of alcohol or drugs.
Not for use on pavement.
Not for use near streets or roads with automobile traffic.
Not for use in water.
Not for use on hills or slopes.
Always play knockerball® on a level surface within a large marked off or enclosed area.
Always use under proper adult supervision.
Always properly inflate the KnockerBall® before use.
Always properly adjust and wear the shoulder straps and firmly grasp the inner handles.
Always remove eyeglasses and any sharp or heavy objects from clothing before use.

Never attempt any stunts unless totally familiar with the KnockerBall®.

It is recommended that you consult a physician prior to playing KnockerBall®. For use only by persons healthy enough for vigorous physical activity.
Not for use by pregnant women or persons with any medical condition such as asthma, claustrophobia, heart conditions, seizures or neck or back problems.
A waiver must be signed by every participant prior to playing KnockerBall.

No spearing, bull charging, or charging with your head down.

Players should wear appropriate footwear. Flip flops, steel toed footwear, spikes or cleats are not appropriate.

Players must fit in the ball properly.

Less than 40" waistline.
6" or more clearance from top of head to top of KnockerBall.
Tailbone should be covered by KnockerBall.
Inner handles should be at chest level.
Shoulder straps should be adjusted properly and resting on shoulders.

Do not kick each other or the KnockerBalls.
Remove jewelry and eyeglasses unless absolutely necessary. Eyeglass straps recommended.

Do not hit people when they are on the ground. It is not safe to keep hitting someone who is trying to get up. Let them get up so that the fun can continue.

No blind bumping of anyone not ready.
Ball on Ball contact only. Do not hit someone not in a ball.
If you are not playing, do not hit, push or pull someone in a KnockerBall.
Do not damage the balls by running into trees, fences or walls.
Do not knock into each other outside the field of play.
When in a KnockerBall, stay in the field of play area.
Remain in your KnockerBall when you are playing.

No smoking in field of play or in or near KnockerBalls.

Always properly inflate the KnockerBalls before use.

Always properly adjust and wear the shoulder straps.
Only use KnockerBalls on grass, turf or gym floors. If playing on grass, check for sharp objects like sticks or rocks that could injure players or puncture the KnockerBalls.
Do not use on pavement, cement surfaces, near streets or roads, or near automobile or pedestrian traffic.
Do not use in water or anywhere near any bodies of water, including pools, lakes, oceans, ponds or rivers.
Do not attempt any stunts, including but not limited to jumps from an elevated area. Dangerous stunts may result in injury.
Never attempt to roll down any hill or grade while inside a KnockerBall.
Don't tense up when you get bumped, just roll with it.
Control yourself with a mixed crowd. If playing with different genders or sizes of people, be respectful of that and don't bump too hard.
Report any damage to the KnockerBalls, if you have a leak or loose handle, or if your straps need adjustment consult an event coordinator.
If playing indoors, it is inevitable to run into the walls. Do not however slam people into them, as they can get injured.
KnockerBall is a sport, you will get tired, so please take rest breaks.
How to reduce the risk of Injury
To ensure safety and fun, please make sure to adhere to all rules outlined by your event coordinators and/or referees. Before playing it is important to read the safety guidelines here: KnockerballSafetyHandout
Where can Knockerballs be used?
Knockerball is best played on a flat surface such grass, turf, carpet, sports court or even basketball courts! We do not recommend playing on rough surfaces such as; gravel, stone, clay, or cement. Like any product, proper care is important so that you can get the most fun out of your Knockerballs.
Is there an age limit?
Knockerballs have been used by people young and old. It is important to evaluate each individual before playing. The players height, strength and weight will determine their ability to use the product.
Is there a weight limit?
There is no minimum weight or maximum weight restriction but it is important to play with players that are similar sizes. 
Is there a height limit?
There is no height limit, but in order to provide a safe user experience, you must have a minimum of 6″ clearance over the players head.
Can I use my Knockerball® in cold weather?
We do not recommend subjecting Knockerballs® to extremely cold weather. It is highly recommended to only use this product in temperatures ranging from 40 degrees to 85 degrees. Extreme cold may make the material and the glue joints brittle therefore rendering your Knockerball® unusable. Additionally, prolonged exposure to UV light (over 72 hours) is not recommended as this may have a similar effect on the raw materials and joints. Obviously, you will be playing Knockerball® in the sun, but we suggest not to store them or leave them inflated for days at a time in the hot sun and/or extreme heat. Please follow similar guidelines for storage of your Knockerballs®.